Welcome to the Tenants' Annual Report 2023
Each year tenants from across South Tyneside work together to help write this Tenants' Annual Report. We hope you find this report interesting, as it highlights aspects of services that we believe are important and useful for tenants to know and identifies plans for improvement.
The tenants who helped produce this document are independent. They examine performance to assess how South Tyneside Homes is delivering against the regulatory requirements, as well as meeting the expectations of customers.
Why We Produce an Annual Report
Why We Produce an Annual Report
The production of an Annual Report is a requirement of the Regulator of Social Housing (RSH). The RSH regulates social housing in England. It sets standards that social housing providers should meet, and the RSH can act if these standards are breached. South Tyneside Council, as a landlord, is responsible for ensuring the regulatory requirements are met in a transparent and accountable way in partnership with South Tyneside Homes. This report helps to demonstrate how customers are involved in examining performance as well as helping to shape and improve services.
At South Tyneside Homes our tenants are our customers and we aim to go further to help meet the needs and aspirations of those living in our homes.
Back to Top

of Introduction
Why Tenants Get Involved in Producing the Report
Why Tenants Get Involved in Producing the Report
I can make an unbiased contribution
I can have my say and help make a positive difference for tenants and South Tyneside Homes
We help highlight important facts and information affecting tenants
We help to communicate what is going on and why
We make the report more accessible and keep the language simple and understandable
Back to Top

of Introduction
Producing the Annual Report 2023
Producing the Annual Report 2023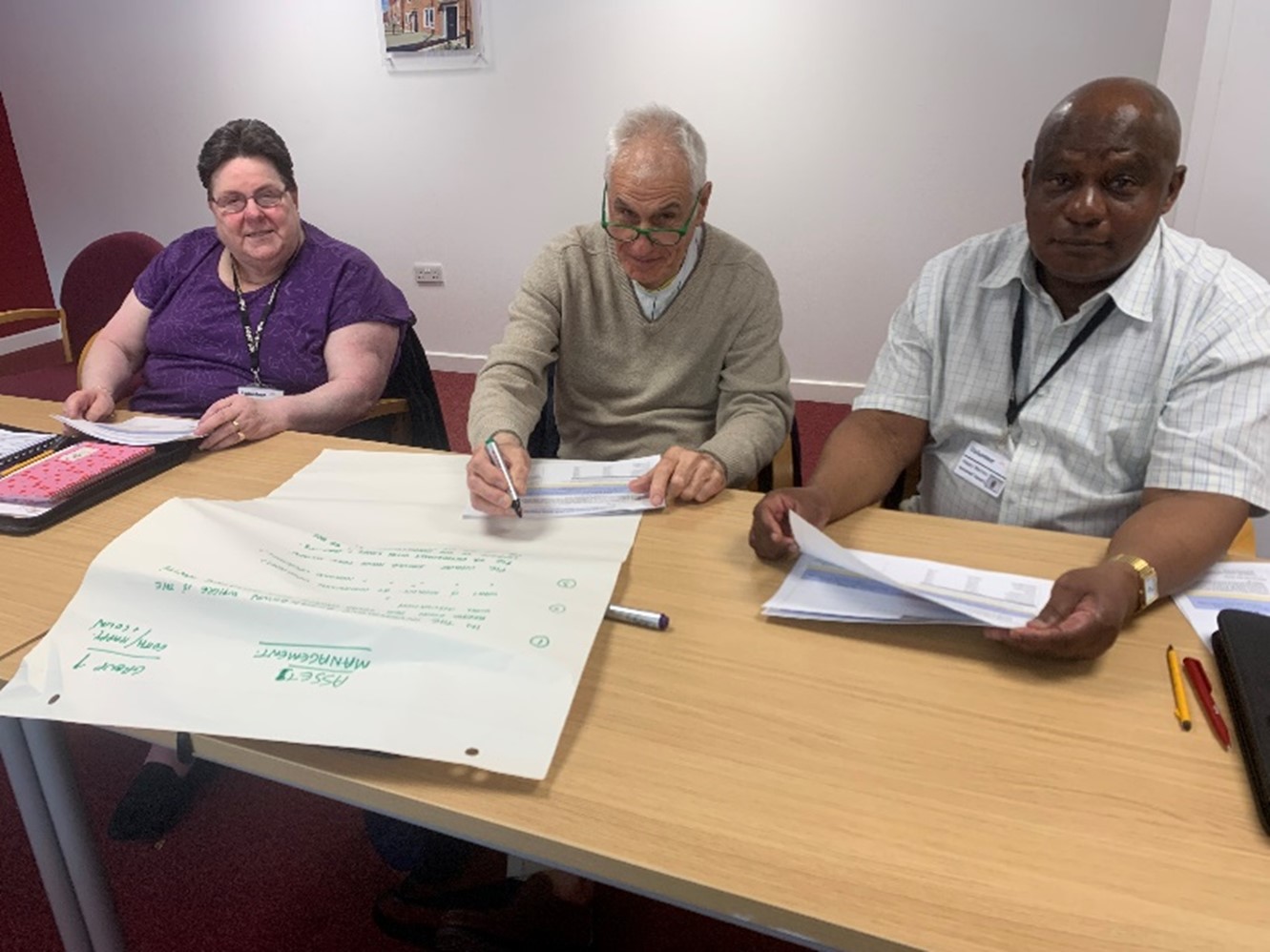 From April to September 2023, 12 customers from two different groups formed the Annual Report Customer group. Producing this report takes approximately 250 volunteer hours!
The group reviewed performance information, asked for further explanations from Service Managers and considered what would be interesting and important for customers to hear about in the report. In addition, a customer survey and focus group took place with wider customers, which provided us with more views on what the report should contain.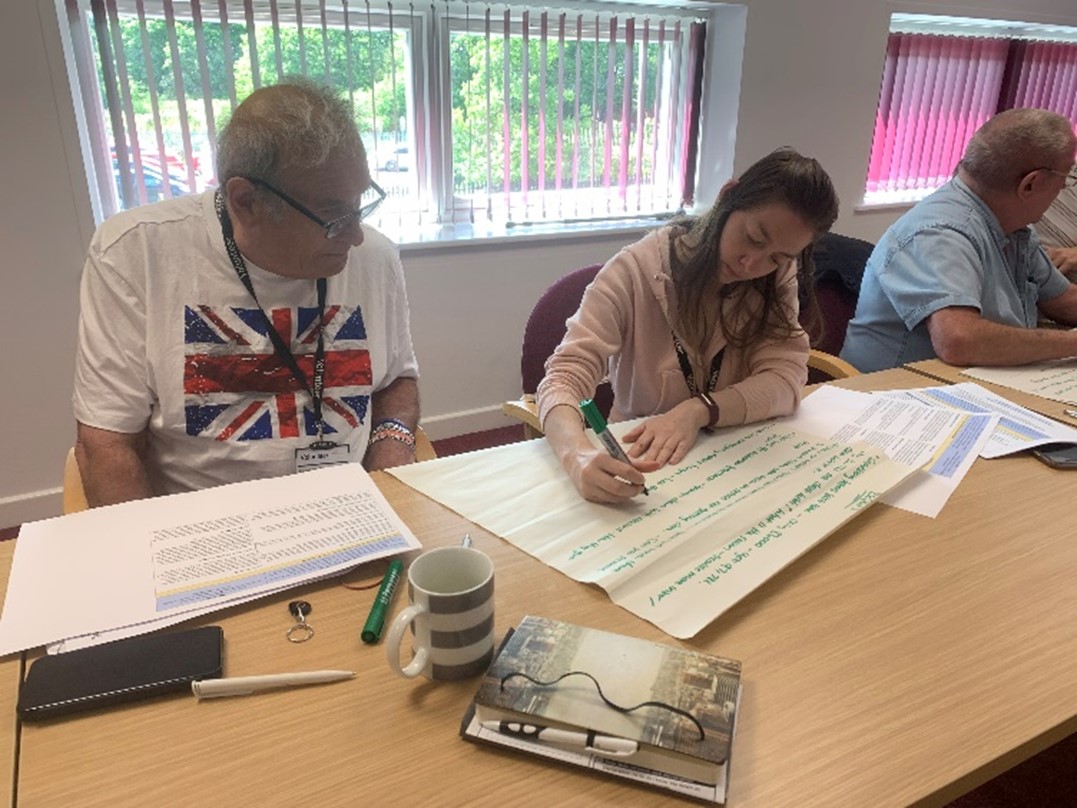 Back to Top

of Introduction
The View of the Organisation
The View of the Organisation
The last year has been extremely challenging, with rising inflation resulting in a cost of living crisis following a difficult two years brought about by the Covid pandemic. We recognise that the current cost of living crisis has placed significant pressures on our customers, and we are prioritising tenancy sustainment and support to help people who find they are struggling in the current crisis. Our staff have worked tirelessly over the last few years to provide welfare and debt advice and support people to sustain their tenancies.
Rising inflation and increased service demand has also placed significant financial pressures on the organisation - with rising material, energy, fuel, sub-contractor and pay costs providing additional pressures on service delivery.
The introduction of new legislation and regulation brought about by the introduction of the Building Safety, Fire Safety and Social Housing Acts keeps our focus on ensuring that we provide safe and secure homes. We're dedicated to ensure we effectively engage and listen to our customers, tailor services to meet individual needs, and ensure we provide an environment where customer feel safe in their neighbourhoods.
We want to continue to provide much needed new homes in the Borough. There is a huge demand for affordable housing and we see rising homeless cases coming through our teams, particularly from tenants in the private sector who are served with no-fault eviction orders.
We will continue to work with the Council to ensure we invest in the housing stock and seek additional funding where possible to help improve the energy ratings in current housing stock, with the aim of providing decent homes, tackling fuel poverty and reducing carbon emissions.
Finally, we want to continue to empower our customers by placing them at the heart of everything we do. We will continue to do this by offering a wide range of opportunities for you to give your views, ensuring your voice is heard and encouraging you to help us continue to tailor and improve the services we offer and influence our decision making through robust governance.
Councillor Richard Porthouse

Chair of South Tyneside Homes' Board

Councillor Jim Foreman

Lead Member for Housing and Community Safety

Paul Mains

Managing Director of South Tyneside Homes
Back to Top

of Introduction
Tenant Involvement and Empowerment Standard
This standard focuses on providing opportunities for tenant involvement and empowerment; supporting customers to scrutinise and improve services; having a clear focus on good customer service, choice and complaints; and having a clear understanding and response to the diverse needs of customers.
This section covers:
Customer Involvement
Customer Involvement
Customers get involved with South Tyneside Homes to produce reports like this one and to work on projects to help improve homes and neighbourhoods. This section of the report features some of the projects that customers have been involved with over the past year.
If you would like to find out more about being involved, please get in touch on:
Involving South Tyneside Homes customers
We want as many customers as possible to tell us what they think. There are a range of different channels for customers to have their say.
990 customers gave their views to help improve services.
Customer engagment methods

| Engagment method | Numbers involved |
| --- | --- |
| The Tenant Talk Facebook group | 225 |
| Surveys | 150 |
| Customer experience projects | 76 |
| Local involvement in neighbourhoods and communities | 512 |
| Formal panels (Scrutiny Panel and Check & Challenge group) | 27 |
| Total | 990 |
Tenant Talk
193

new customers engaging with the Tenant Talk group
Tenant Talk is a dedicated Facebook group aimed at those who want to provide 'little and often' feedback and share views on services. The page has grown from 32 to 225 this year. It has provided a way for interested customers to join our customer panels and the opportunity to join the South Tyneside Homes Board.
Customer Surveys
Customer surveys received 150 responses on the following topics:
Customer survey response topics

| | |
| --- | --- |
| Anti-Social Behaviour | 52 responses were received on updated anti-social behaviour (ASB) information on the website indicating where further changes were required. |
| Twinned It | 42 responses helped inform the provision of building safety information to customers living in high rise buildings. |
| Annual Report | 36 responses were received on the design and content of last years Tenants' Annual Report. |
| Damp and mould | 20 responses were received from those who had reported instances of damp or mould which informed the Scrutiny Panel review recommendations. |
Customer Experience Projects
990

customers gave their views to help improve services
Meeting customers to map their journey through some of South Tyneside Homes services. This is a growing involvement project activity and has increased considerably in the last year, from 19 to 76 customers.
In the past year, there's been 13 different projects, with 76 customers getting involved to capture their experience of accessing services.
Customer experience projects have identified improvements in the following areas:
Anti-Social Behaviour
Complaints
Damp and mould
Decants
Health and housing
Income
New build and major works
Repairs
Green Homes Grant installations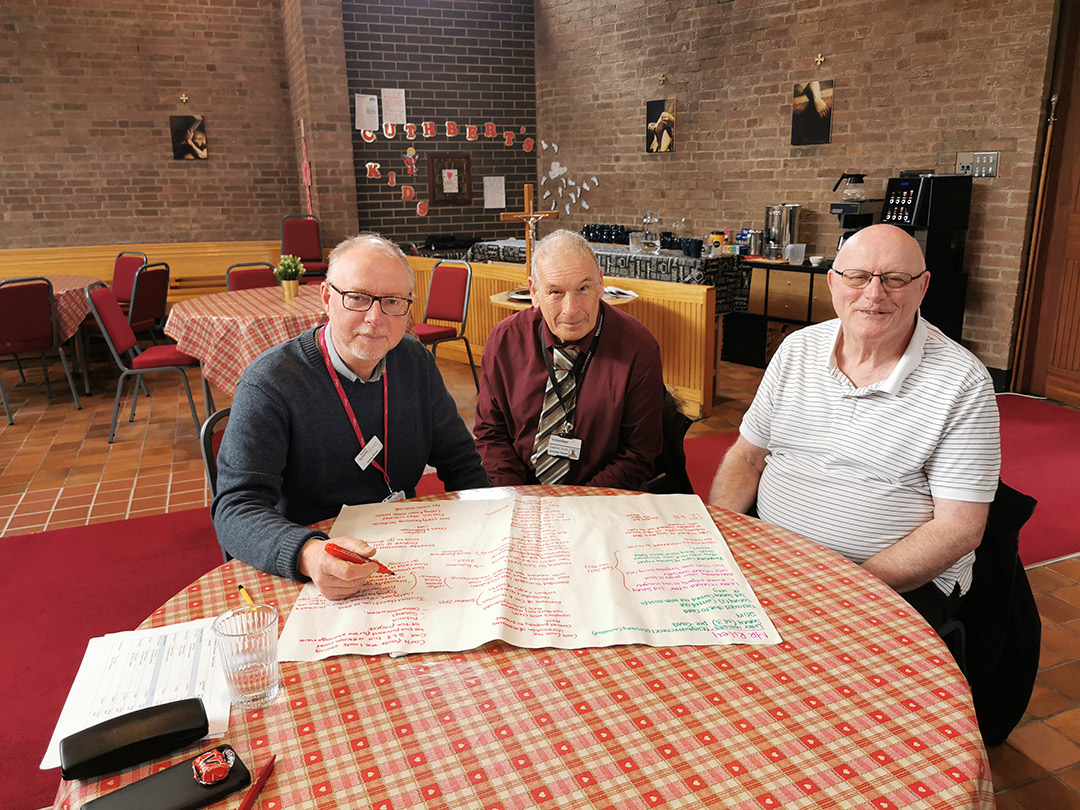 Local Involvement in Neighbourhoods and Communities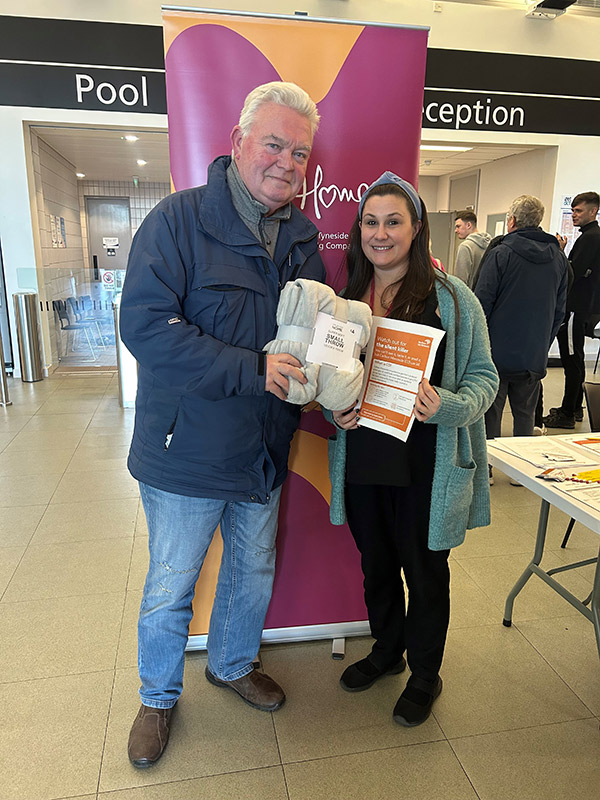 512 residents engaged in a range of involvement activities including:
attending energy roadshows
talking to staff in high-rise and housing plus accommodation about building safety and other concerns
outreach engagement with Third sector organisations and community groups.
Young People Reviewing Empty Property Conditions
Five young care leavers were invited to visit empty properties to give views on their appeal and support needed to become a new tenant. The group provided valuable insight into the views of future potential South Tyneside customers. Suggestions focused on how South Tyneside Homes can help young people to sustain their tenancies, such as budgeting, DIY skills, decoration and standard of properties available. South Tyneside Homes are developing a Leavers Care Program to support customers.
Customers Holding South Tyneside Homes to Account: Scrutiny Panel and Check & Challenge
This year, the Scrutiny Panel carried out quarterly Performance Challenge sessions where they reviewed South Tyneside Homes' performance with senior managers. Service reviews are also undertaken to provide feedback and insight into where improvements to services are required.
Over 600

volunteer hours have been spent on involvement projects that identify service improvements
I want the Panel to make a positive difference to the way services are offered to customers. We recently reviewed advice and information on the website to help customers reduce their energy use. We made 20 recommendations for improvements, and I am really pleased to see that 16 of these have now been delivered.

Doug Mather, Vice Chair of the Scrutiny Panel
34

actions will be delivered during 2023/24 following the Scrutiny Review into Damp & Mould
The Check and Challenge group carried out checks to see if South Tyneside Homes are:
Learning from complaints and putting things right with appropriate remedies
The group made 22 recommendations for improvements.
Improving the website's Anti-Social Behaviour information
The group recommended there should be an automated response to acknowledge receipt of information when reported. This includes a step-by-step guide of what to expect once a customer reports an issue, with timescales, categories and an addition of links for support for those in abusive relationships.
Back to Top

of Involvement and Empowerment Standard
Customer Services
Customer Services
89%

customer satisfaction

207,000

calls were received by the Customer Services Centre - the highest figure recorded (14,000 more than last year)

9,500

Live Chats

15,500

email enquiries received
Calls resolved at first point of contact were 72%, below the target of 75% but improved between January and March.
Customer Portal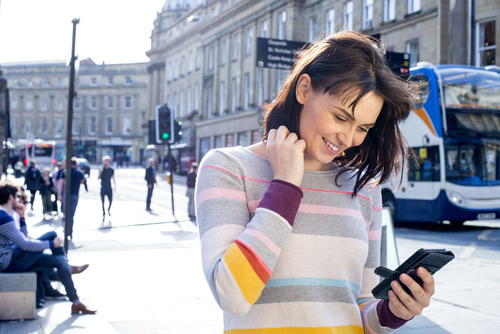 The Customer Portal was launched during the year and can be accessed via the home page of the South Tyneside Homes website.
Customers can log in and use the following features:
Check rent account balance
Check rent statement
Update contact details
Add/remove occupants at their property
See a breakdown of weekly rent charges, for example, rent, sewerage and water
Links to make a payment to the Council website
Back to Top

of Involvement and Empowerment Standard
Customer Feedback
Customer Feedback
Compliments
739

compliments were received in 2022-23 compared to 713 in 2021-22
Complaints
What happens when a customer logs a complaint?
If a customer tells South Tyneside Homes they are not happy with a service they have received, an attempt will be made to resolve the issue straight away. If this is not possible, customers can then log a complaint to be investigated. If customers are not happy with the response they receive, they can request a further investigation (stage 2). If a customer is still not satisfied, the complaint may be taken to the Housing Ombudsman, an independent body that deals with disputes between landlords and tenants.
The number of complaints received during 2022-23 is higher than those received in 2021-22. During 2022-23, 1,120 complaints were made. In 2021-22, 1,010 complaints were made.
Stage 2 complaints increased to 89 in 2022-23, from 78 during 2021-22.
89 complaints were taken further (to stage 2)
11 complaints went to the Housing Ombudsman
South Tyneside Homes has a dedicated Customer Feedback team responsible for logging and triaging all feedback enquiries. This includes complaints, compliments, requests for service, questions, and MP and Councillor enquiries. It is responsible for Housing Ombudsman investigations and for ensuring South Tyneside Homes remains compliant with the Complaint Handling Code.
See our Complaint Handling Code Self-Assessment.
A new system has been introduced following a complaint investigation. If a complaint is upheld and a service failure identified, necessary improvements will be made to prevent the issue recurring.
To make a complaint or give feedback:
Call 0300 123 6633
Write To: Customer Service Team, South Tyneside Homes, Town Hall and Civic Offices, Westoe Road, South Shields, Tyne and Wear, NE33 2RL
Or visit the South Tyneside Homes website for further details.
Back to Top of Involvement and Empowerment Standard
Equality and Diversity
Equality and Diversity
Delivering Inclusive Services
South Tyneside Homes is focused on making services more inclusive for customers, in order to deliver services and communicate with customers according to their needs and preferences.
The South Tyneside Homes website is accessible to all customers and can be used via PCs, tablets and mobile devices. The website offers users a ReciteMe toolbar facility, which lets users choose text fonts and sizes and information can be translated into different languages and has a read aloud facility.
To find out more about the work that has been taking place and what more is planned view the Equality, Diversity and Inclusion Annual Report on our website.
Developing accessible services
Enhancing knowledge of customer needs and preferences
6,173 webpages viewed with accessibility toolbar
Back to Top of Involvement and Empowerment Standard
Tenancy Standard
This standard focuses on the way homes are allocated and how tenants are supported to maintain their tenancy.
This section covers:
Moving Home
Moving Home
The Voids and Allocations team carry out the day-to-day process of managing properties from 'keys in to keys out', ensuring that empty homes are let to the right quality standard. The team also:
Carry out pre-offer and pre-termination visits
Advertise and market properties
Keep customers up to date with repairs and advise when properties are ready
Carry out sign-ups
1058 empty homes in 2022/23
88 average empty homes per month in 2022/23
The team now manage the one-month tenancy support visits, and support customers with the option of swapping their home via mutual exchange.
Over the last year the team have successfully reduced the number of empty properties in Housing Plus, by offering incentives, including help with removals.
The customer group reviewing annual report data asked: "Has the support offered to customers moving into Housing Plus worked?"
Answer: Yes! It has been very successful and our customers have greatly appreciated the offer. Plus, empty properties continue to reduce.
Three delighted customers moving into their new housing plus apartments wanted to share their experiences:
I am very happy with my new home, everything went great and the whole process was very easy. The Allocation Officers Katie, Demi and Janice were very friendly.

Mrs Picketsgill
I would like to say my experience of using the service that I have nothing but praise. It has been a smooth process and that's all down to the Allocations Officer Katie and her colleagues who have made it that way.

Mrs McAtominey
The Allocations Officer Ashley was very helpful; I was made to feel extremely welcome straight away.

Mr McGuigan
The Homelessness and Housing Solutions team assess customers who are homeless or at risk of homelessness.
Being asked to leave by family or friends, experiencing domestic abuse or being served an eviction notice are the most frequent reasons why people are presenting as homeless to the team.
The team have managed to prevent 364 families and individuals from becoming homeless through the last year. South Tyneside Homes have 25 Homeless Units across South Tyneside.
422 families and individuals who have had their Homelessness relieved and accommodation sourced
1,920 advice and guidance cases the team have dealt with
The Housing Options team work in partnership with the Integrated Looked After Children Team at South Tyneside Council, delivering a 'Housing First' Initiative. This ensures young care leavers are supported in the Borough to sustain their new home.
I wanted to take this opportunity to again share my gratitude, specifically to yourself, and acknowledge the contributions of South Tyneside Homes. We have created a genuine working relationship with a shared agenda, shared ethos and shared commitment to improve the offer.

Hayley, you have gone above and beyond for some of our young people at real crisis points in their lives.

Lynn Kell, Practice Manager in Leaving Care
The Housing Options team also work closely with the Asylum Seeker, Refugee and Migrant Support team. The team attend drop-in meetings with the Living Waters Church, providing support and advice to people looking to rent a home.
Veterans Service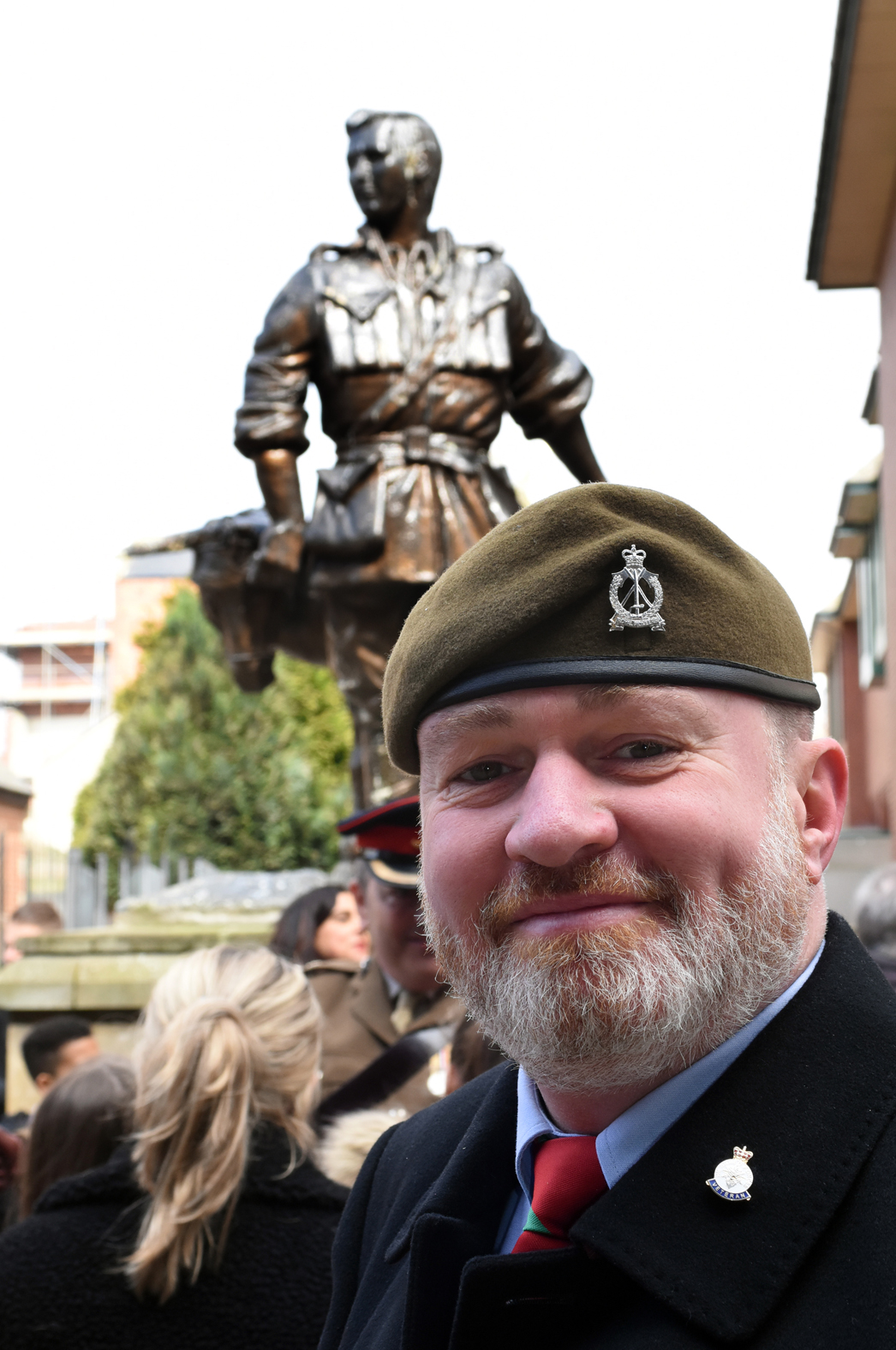 Lee, the Armed Forces Support Officer, has continued to provide excellent support in the community and engages with Veterans across the borough. Lee joined South Tyneside Homes in 2020 after previously serving in the Royal Pioneer Corp.
Lee has helped change the lives of many Veterans - supporting them into employment, permanent accommodation, reintegrating into communities, reconnecting with family, and accessing support for complex mental health issues.
Lee is a qualified boxing instructor and has developed a "Boxing and Wellbeing Program", offered free of charge for Veterans at the Leisure Centre.
Here's what some of our customers have to say about Lee and the Veterans service South Tyneside Homes offer:
Thank you for all the support to get me an appointment with the mental health team. It was a godsend.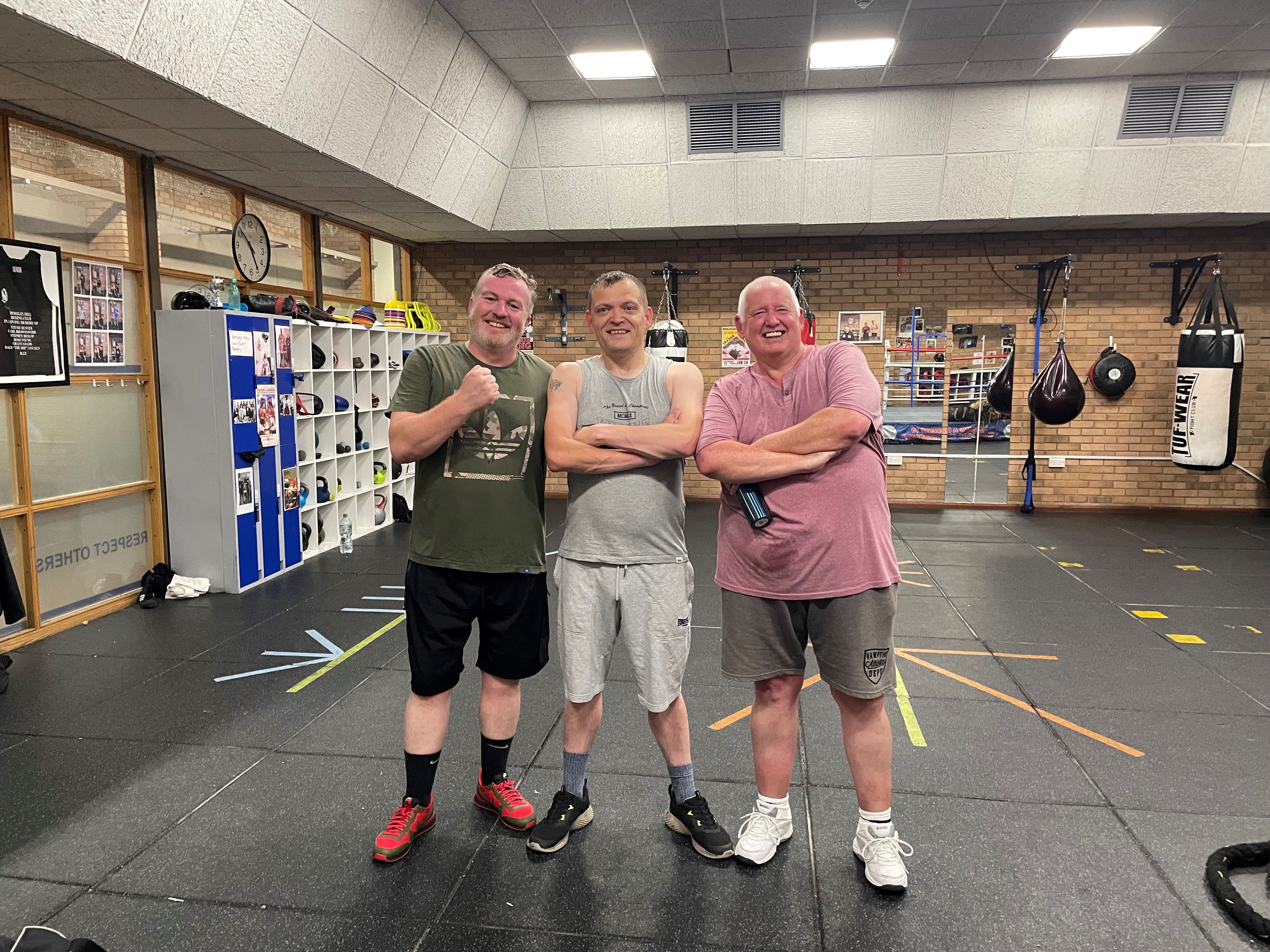 I feel very humbled. The level of support and care I have received has been outstanding. I can't thank you enough Lee and all the lovely people who have made a difference in my life.
Back to Top of Tenancy Standard
Supporting You In Your Own Home
Supporting You In Your Own Home
The Health and Housing team is split into two functions:
The Health and Housing team:
Assess the impact a customer's home has on their long-term illness or disability
Match customers who have been through the service to pre-adapted properties
Make sure all new adaptations are approved by South Tyneside Council
If you require changes or adaptations to remain independent at home, contact the Let's Talk team by calling 0191 424 6000 or email: letstalk@southtyneside.gov.uk
The Pre-Tenancy Support team:
Support vulnerable applicants through the re-housing process
Assist customers who are not suitably housed
The team have introduced a new triage system to improve waiting lists for customers. This process allows new cases to be categorised with a traffic light system, allowing the team to identify urgent need cases.
Over 89% of customers receiving pre-tenancy support are still sustaining their tenancies 12 months
A Customer Journey Mapping review highlighted customers were concerned about a lack of communication and empathy. To improve these issues, new letters have been introduced to inform customers on the progress of their cases and all customers are allocated a named person dealing with their case.
Back to Top of Tenancy Standard
Paying Your Rent
Paying Your Rent
During 2022/23 the Income Team continued to support customers by exploring different ways to help customers maximise their income and pay their rent. Rent arrears remained under target for most of the year.
Rent Arrears 2022/23

| Month | Arrears |
| --- | --- |
| March 2023 | £1,907,594 |
| February 2023 | £1,845,226 |
| January 2023 | £1,867,213 |
| December 2022 | £1,708,492 |
| November 2022 | £2,171,160 |
| October 2022 | £2,085,011 |
| September 2022 | £1,976,200 |
| August 2022 | £2,255,722 |
| July 2022 | £1,942,881 |
| June 2022 | £2,444,998 |
| May 2022 | £2,321,243 |
| April 2022 | £2,084,055 |
| Target | £2,300,000 |
£1.9M value of outstanding rent arrears 2022/23
Customer Journey
Here's how the team supported a young person claiming UC who had sadly lost their employment.
Referrals were made to our Welfare Support Team and Northern Rights.
The team made applications to the Homeless Prevention Fund to clear £400 of rent arrears. An application was also made to Northumbrian Water for reduced water charges due to a low income.
The customer was supported by an affordable payment plan for rent.
All this support had a positive impact on the customer and reduced the risk of the customer falling further into debt.
The Income team work closely with Northumbrian Water to help support customers. Customers can benefit from a reduction in their water and sewerage charges of up to 50% if they have a low household income of under £17,000. Northumbrian Water have agreed to auto renew a water rates reduction for a second year for South Tyneside Homes customers. For more information contact your Housing Officer or visit www.nwl.co.uk
£352,375 credit secured from Northumbrian Water
2,623 applications made to Northumbrian Water
The Income team have introduced a new process to reduce 'former tenant arrears'. This process includes home visits, telephone, and face to face appointments to support customers to a better financial position, to pay off outstanding rent arrears and reduce their debt.
£2.1M amount of former tenant arrears outstanding
Next year, the team plan to increase automated texts for low arrears balances, which include a payment link and act as a reminder when rent payments are due.
Back to Top of Tenancy Standard
Welfare Support
Welfare Support
The Welfare Support team support residents with specialist benefits and debt advice. They also manage the Local Welfare Provision scheme for South Tyneside Council along with the Social Navigators Project.
The Welfare Support Team helped me claim Attendance Allowance and consequently pension credit, the cost-of-living payment and winter fuel allowance. The support given has made a huge difference. The Welfare Support Team is full of warm, compassionate, and sincere people who care and are on the side of those they are supporting.

Mr Kenneth Barker
£6,019,080 in financial gains during 22/23
4,825 applications for financial support during 2022/23
The team have faced a huge demand for their services and had concerns that customers might have to wait for help. This has been addressed by increasing the number of staff in the team, including four Social Navigators. Social Navigators support vulnerable customers to manage their day-to-day lives, keeping them from reaching crisis point.
Customers reviewing data for the report asked: "Can customers speak to the Welfare Team?"
The team responded: "Customers will not wait more than 24 hours for a call back, they will generally get a call back the same working day. Welfare Support Assistants triage customers and help prioritise workflow."
Plans for the Next Year
The team are on course to achieve their increased target of £7.2 million in financial support for residents.
Back to Top of Tenancy Standard
Tenancy Sustainment
Tenancy Sustainment
The Tenancy Sustainment team work tirelessly to support vulnerable customers by utilising a 'condition matters' approach where necessary.
The team assist customers who are experiencing issues with hoarding, excessive cluttering, malicious damage, and poor property condition. The aim is to support customers to live independently and maintain good quality property conditions.
The team aid vulnerable customers with a co-ordinated approach. They attend multi-discipline team meetings with GPs and other specialist services to ensure better communication and information sharing to deliver customers a seamless service.
If a customer was experiencing issues with cluttering in their home:
The team would agree an action plan with the tenant
Rubbish and unwanted items would be removed and a deep clean arranged
The tenant would be supported weekly to continually improve their living conditions
During the year, the team have contacted customers who they know have had their gas capped due to having no credit. They help customers by ensuring they have the right support and advice in relation to utility bills and can make referrals for customers to receive credit on their gas meter which is essential to have a gas safety check carried out.
71 properties have had gas reinstated
118 properties have been supported weekly
926 support visits carried out by Tenancy Sustainment
Home Standard
This standard focuses on the provision of quality homes that meet the Decent Homes Standard, a cost-effective repairs and maintenance service, the health and safety of customers, and the provision of an adaptations service that meets customer needs.
This section covers:
Investing in Homes
Investing in Homes
During 2022/23 £17m was invested in homes to ensure they are well maintained, meet the Decent Homes standard and keep our customers safe.
Investment in New Homes 2022/23

| Investment | Amount (£) |
| --- | --- |
| Upgrades to communal areas (including doors and door entry systems) | 2,246,480 |
| Doors and windows | 3,386,132 |
| External upgrades | 2,259,685 |
| Internal upgrades (including kitchens, bathrooms, rewires, electrical upgrades, heating renewals, boiler renewals and heating upgrades) | 2,098,759 |
| Structural works (including floor heave, wall stabilisation and canopies) | 1,787,586 |
| Heating upgrades (with 'A' rated boilers) | 1,519,721 |
| Electrical upgrades | 1,520,551 |
| Empty homes improvements (including new kitchens and bathrooms, rewiring and upgrades to heating systems) | 1,085,569 |
| Health and safety (includes installation and maintenance of fire safety systems) | 647,564 |
| Estate improvements (including roof renewals, pointing, windows and doors) | 313,448 |
| Fencing | 119,894 |
| Housing Plus investment | 48,306 |
| Total | 17,033,695 |
Back to Top of Home Standard
What This Investment Has Delivered
What This Investment Has Delivered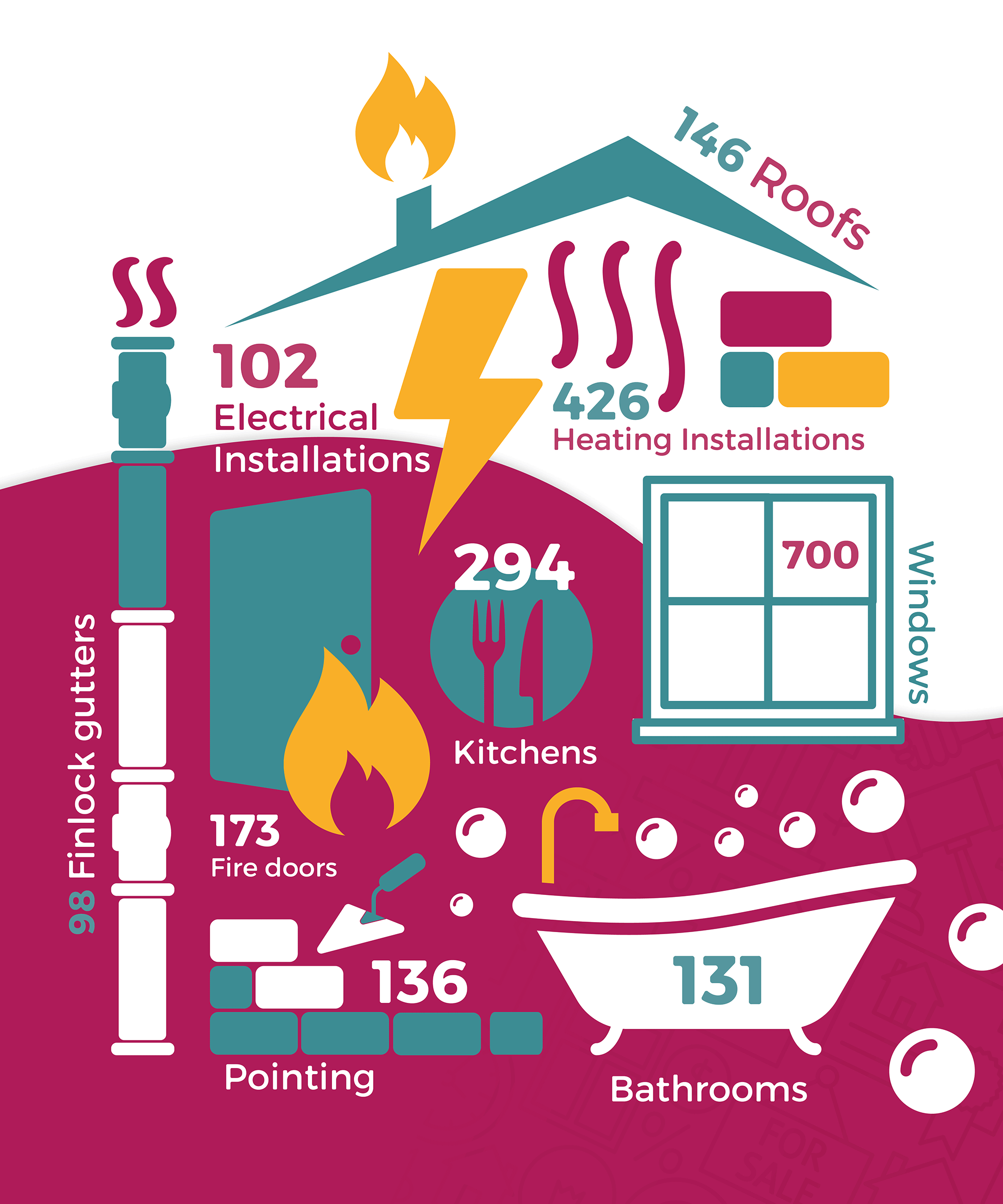 Investment Projects

| Installations | Number installed |
| --- | --- |
| Kitchens | 294 |
| Bathrooms | 131 |
| Electrical installations | 102 |
| Heating installations | 426 |
| Pointing | 136 |
| Roofing | 146 |
| Windows | 700 |
| Finlock gutters | 98 |
| Fire doors | 173 |
Back to Top of Home Standard
Adaptations
Adaptations
Adaptations are installed to customers' homes to help them to continue to live independently. During 2022/23 the following were installed:
| Type of adaptation | Number installed |
| --- | --- |
| Bathroom adaptations | 151 |
| Paths, steps and ramps | 77 |
| Stairlifts and through-floor lifts | 69 |
| Minor adaptations | 61 |
| Handrails and grabrails | 39 |
| Structural alterations | 5 |
Back to Top of Home Standard
Investing in a Green Future
Investing in a Green Future
During 2022/2023, £1,725,896 was invested through the Green Homes programme to install cavity wall and loft insultation, triple glazed windows and solar panels in the homes of 246 customers. This improved the energy rating of these homes helping to keep customers warmer, saving them money and also saving 171.8 tonnes of CO2.
211 cavity walls insulated
96 lofts insulated
76 homes received solar panels
78 triple-glazed windows
New properties are being built at Hindmarch Drive which will include solar photovoltaic panels and the latest intelligent heating and lighting technology.
Residents of Durham Court will benefit from renewable heating generated from the Hebburn Renewable Energy Scheme that is in development.
Energy Roadshows
Energy roadshows provided customers with face-to-face energy-saving advice. 150 customers were given help and advice about energy bills, money saving measures and financial support available alongside LEAP (the local energy and money saving service) and the Citizens Advice Bureau. More energy roadshows are planned for autumn 2023.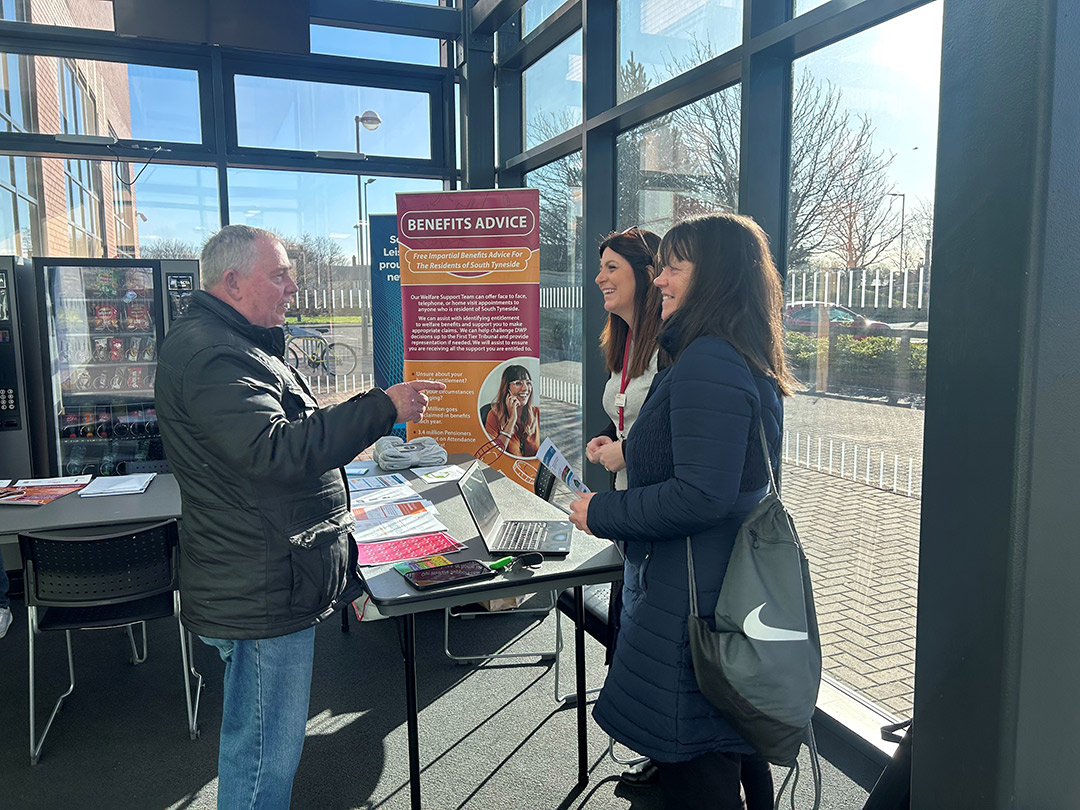 Waste and Recycling
99.6% of all waste was diverted from landfill last year
42.307 tons of UPVC window and door frames were recycled and used in the manufacture of new windows and doors installed in homes (manufactured using 100% recycled materials).
Back to Top of Home Standard
Keeping You Safe
Keeping You Safe
Healthy Homes
A new Healthy Homes team has been created, which is dedicated to tackling cases of damp, mould, and condensation. This new team works together with income and welfare support services to maximise help for customers on an individual basis.
To report instances of damp, mould or condensation: call the Customer Services Centre on 0300 123 6633, or visit the South Tyneside Homes website for further information.
High Rise
Engaging tenants on building safety
Resident access to safety information
Structural surveys to include safety
Gas
6,155 emergency heating repairs completed within a four hour timescale
9,000 heating repairs attended within timescale
Over 96% of heating only repair jobs are completed at the first visit
A gas safety inspection cannot be carried out if there is no credit on the gas meter!
Where heating-only repair jobs are unable to be completed at first visit this can be because an asbestos check is required, where there is lack of time available to complete the job, follow-on trades are required, or the gas supply is unavailable.
Carbon monoxide alarms have been installed in all properties where there are gas or solid fuel appliances. Looking ahead, the team plans to implement electronic certification with the introduction of a new mobile gas servicing system.
100% of properties have a gas safety certificate
Over 15,000 carbon monoxide alarms installed
100% compliance has been achieved for the 12th year in a row, ensuring all properties have a valid gas safety certificate for 2022/23. Carbon monoxide alarms have been installed in all properties where there are gas or solid fuel appliances. Looking ahead, the team plans to implement electronic certification with the introduction of a new mobile gas servicing system.
940 gas audit inspections
940 properties benefited from a gas auditor visit to check the quality of the work undertaken at gas safety inspections - this is an increase of 136 from the previous year.
Electrical
4,500 electrical safety inspections carried out in 2022/23
South Tyneside Homes must test each home every five years (the minimum annual target is 3,500). Every home that becomes empty is tested before it is re-let to another customer.
Water
2,195 domestic water risk assessments carried out in 2022/23
Each home which had an assessment was provided with advice on how to maintain water safety at home - an increase of 1,173 from the previous year. Water risk assessments are completed on a rolling programme with a target of 100 per month. In total 4,381 assessments have been complete which is 26% of the total housing stock – significantly ahead of the sector average! Checks are also carried out as new tenancies are taken on.
Back to Top of Home Standard
Repairs
Repairs
90% customer satisfaction
14% increase in requests for repairs
73,474 repairs carried out overall
14,533 emergency repairs completed
99.45% of emergency repairs delivered within timescale
During 2022/23 there was an increase of just over 14% in demand for repairs. There were 85,326 requests for repairs during the year comprising of 73,474 repairs carried out, 9,462 inspections undertaken and 2,390 instances where a repair could not be completed at the first visit.
If you are not going to be at home please let us know as missed appointments cost £20,000 per year.
It's really important to let South Tyneside Homes know if you cannot attend your repairs appointment.
Report a Repair
Customers can report a repair in a variety of ways including via the Customer Services Centre on 0300 123 6633, by text message, type talk, email, in writing or in person at South Shields Town Hall.
Emergency repairs can be reported 24/7 via the Customer Services Centre.
Or visit the South Tyneside Homes website for further details.
Leaseholders
There are around 800 leaseholders in the Borough and they are responsible for repairs to the interior of their home. Repairs and maintenance to the structure and outside of the buildings, communal areas and communal gardens are carried out by South Tyneside Homes on behalf of the Council and paid for by leaseholders through service and other charges.
Service standards set out what level of service leaseholders can expect and these are agreed with leaseholders.
Back to Top of Home Standard
Neighbourhood and Community Standard
This standard focuses on the cleanliness and safety of neighbourhoods and communal areas; the promotion of social, environmental, economic wellbeing and the prevention and tackling of anti-social behaviour (ASB).
This section covers:
Keeping Your Community Clean
Keeping Your Community Clean
The Handy Estates team have been working hard to keep the borough swept, clean and tidy. They provide 7-day cover with mechanical sweepers and have a 24 call out service.
Each morning, the Littlehaven and Sandhaven beaches are mechanically cleaned and swept to ensure they are safe for visitors. The beach requires 12-month cover due to increased visitors during the winter.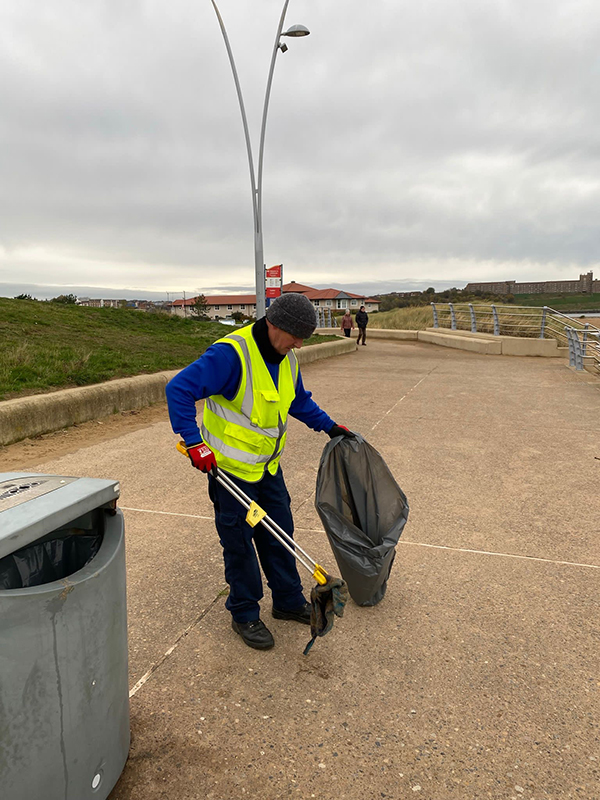 The team are hoping to implement a new co-ordinated approach to resident and community litter picking groups, promoting the good work done across the borough. New service standards will be introduced and published, advising how customers can request services to keep their community clean.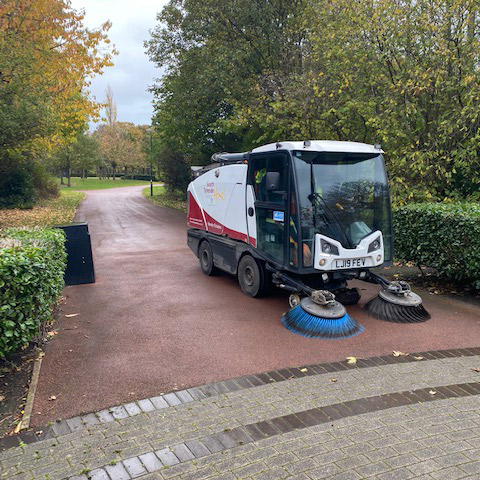 The Handy Estates service transferred from South Tyneside Homes to South Tyneside Council at the end of March 2023. From a customer point of view, it's business as usual, and customers requiring any Street Scene services should contact the South Tyneside Council contact centre on 0191 427 7000.
The Housing and Area Management team also provide support and services to help keep the community clean. Neighbourhood Officers within Jarrow Community Area Forum have been working closely with Environmental Health to address and deter fly tipping. Sadly, there has been a rise in fly-tipping nationally.
The team recognises in known-areas where fly-tipping occurs, cameras can work as a deterrent, but can displace problems. They have formed a core group of partners, which includes the police and elected councillors, to work together to resolve issues across the Borough.
Fly-tipping timescales: Combustibles removed - the same working day
Anything else: 3-5 working days
The Housing and Area management team carry out
Garden Tidy investigations
Fly tipping, dog fouling, litter/graffiti reporting and investigations
Area inspections
Back to Top of Neighbourhood and Community Standard
Keeping Your Community Safe
Keeping Your Community Safe
During the year, the team have been dealing with 'county lines' drug issues. The people organising 'county lines' will exploit young and vulnerable people who often have addictions to be drug-runners or move cash. The gangs will sometimes take over a person's property to use it for criminal activities. Children and young adults may not realise if they are in this situation. It's important that people in the community speak to the police and the ASB team if they suspect criminal activities are going on in their area.
The team have used the full range of powers stipulated in the ASB Crime and Policing Act and have been successful in obtaining closure orders on two properties which had become a hotbed for ASB issues on estates.
The team are looking to introduce a new version of the Noise app. This updated version is designed to allow people to send video footage which will be able to be used as evidence.
The Anti-Social Behaviour (ASB) team have received training, during the year learning "how to deliver trauma responsive services". This has been applied to a number of complex cases with positive results.
A trauma responsive approach allows the team to support customers who have been suffering with addictions and trauma to access help and identify triggers to help them stop being involved in crime and substance misuse. This approach will hopefully have a positive impact on a customer's life, helping them become happier, grow in confidence, and avoid being involved in crime and ASB in their community.
Back to Top of Neighbourhood and Community Standard
Keeping Customers Safe
Keeping Customers Safe
The Housing and Area Management team continually work to keep customers and communities safe.
100% compliant on building compliance and safety checks
The teams carry out Home Safety Checks and estate-based anti-social investigations. The teams work in partnership with other agencies including the police, fire services and other housing providers to target community issues. They also attend Community Area Forums across the Borough.
Housing and Area Management teams collaboratively deliver health and safety meetings for customers living in high rise buildings. These meetings include discussions on all aspects of health and safety and fire safety. To develop further customer engagement the team have planned out-of-hours meetings.
The team also complete evacuation assessments, where they evaluate if tenants need assistance in the event of an emergency and require evacuation from the building. Customers requiring assistance will be added to the assistance list, which can be accessed by the Fire Service.
100% Home Safety Checks carried out annually in High Rise and Housing Plus buildings
Back to Top of Neighbourhood and Community Standard
Promoting Social, Environmental and Economic Wellbeing
Promoting Social, Environmental and Economic Wellbeing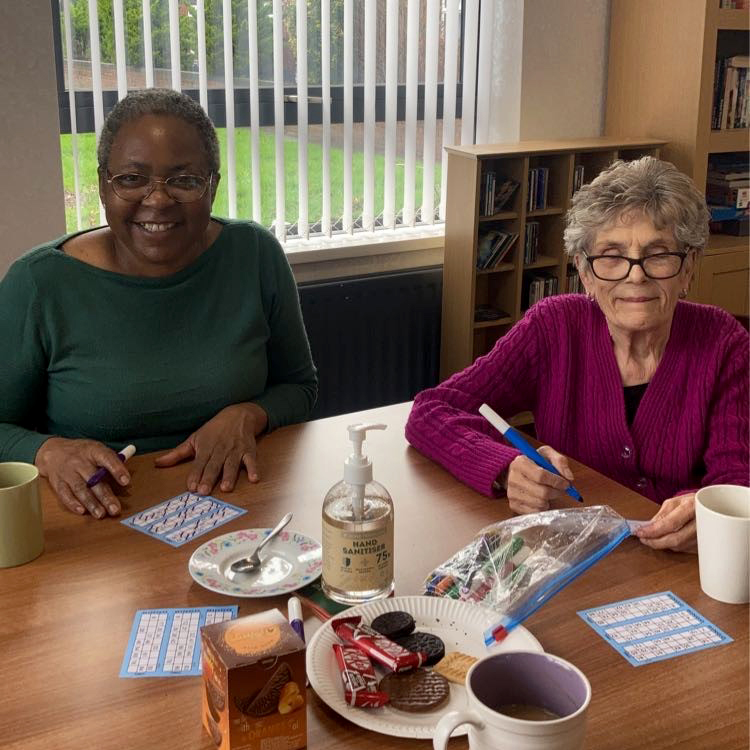 The Housing Plus team have been working tirelessly to visit every tenant within Housing Plus schemes to discuss customer safety.
Every customer living in a communal building has been visited to develop their own safety and evacuation procedure – 696 visits during 22/23
Daily checks and wellbeing calls are delivered 365 days of the year
The team have visited 1035 tenants to discuss home safety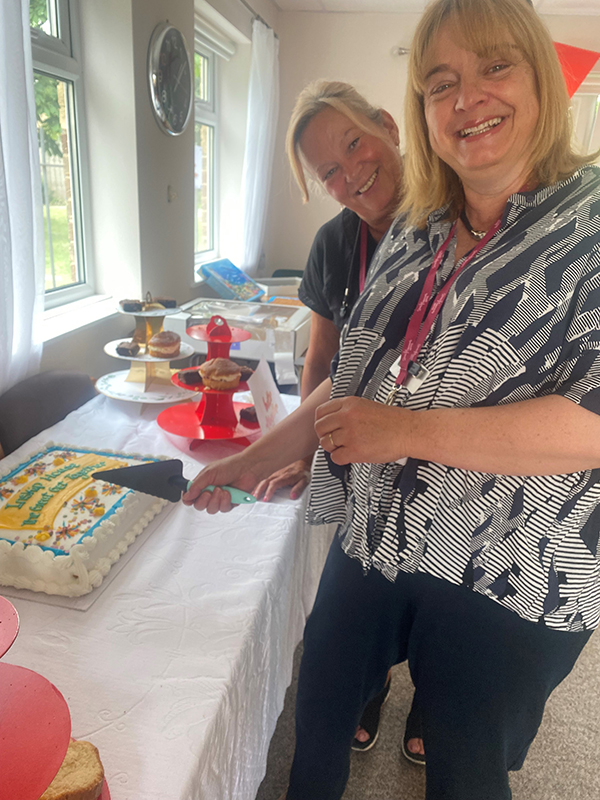 During the year residents in Housing Plus schemes have enjoyed social events including bingo, shopping events, sunny days out, Christmas afternoons and celebrations!
Housing Plus are continuing to work in partnership with Equal Arts, Age Concern, Future You and The Cultural Spring to help them deliver exciting and interesting activities.
Over the year, the team have been supporting tenants to build their confidence after Covid and to join in with social events, whilst also recognising some customers are not interested in attending activities.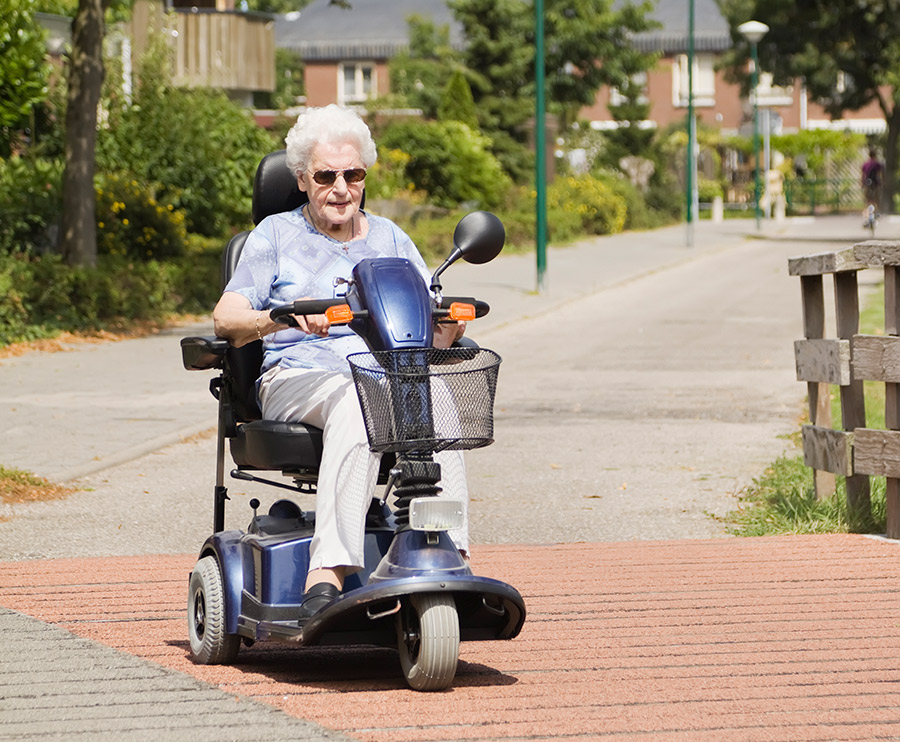 Scooter and scooter storage is a challenge, as many of the buildings were not designed with storage for scooters. This is a priority challenge and the team work closely with the Fire Safety Advisor and Compliance team to maintain building safety.
For safety reasons:
No mobility scooters are allowed to be stored in communal areas or corridors
No mobility scooters are stored in flats
Housing Plus staff are always looking to continually improve how they support and meet the changing needs of their customers. They have recognised more customers are needing extra support to help furnish their homes and often require referrals to support services for complex needs.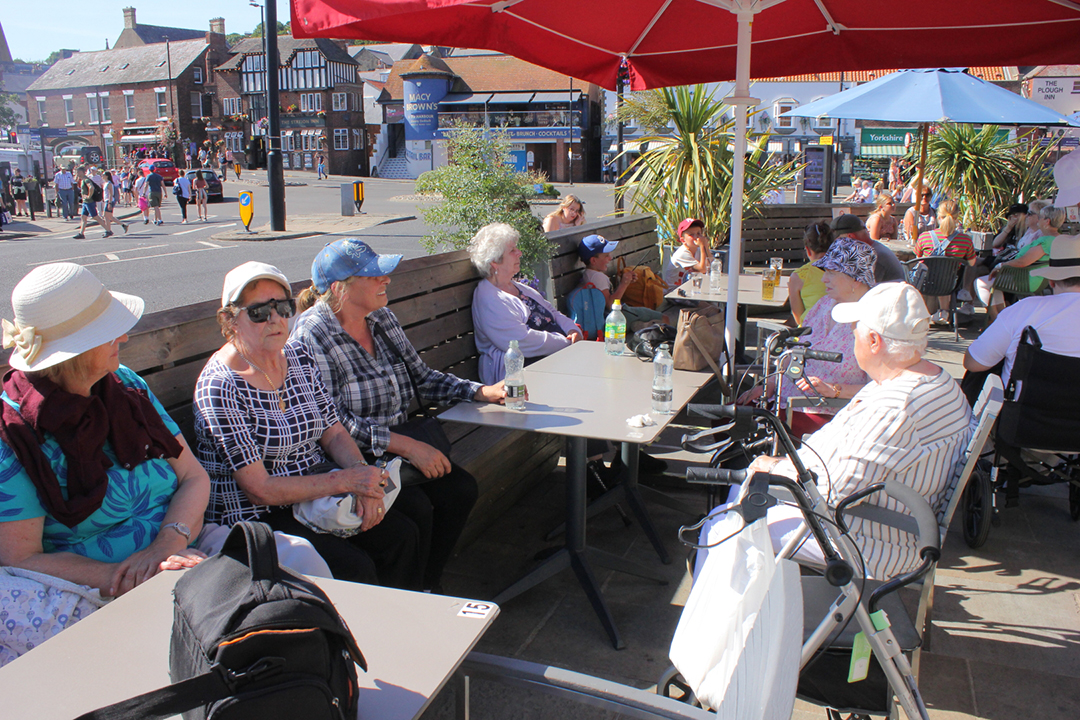 Back to Top of Neighbourhood and Community Standard
Social Enterprise
Social Enterprise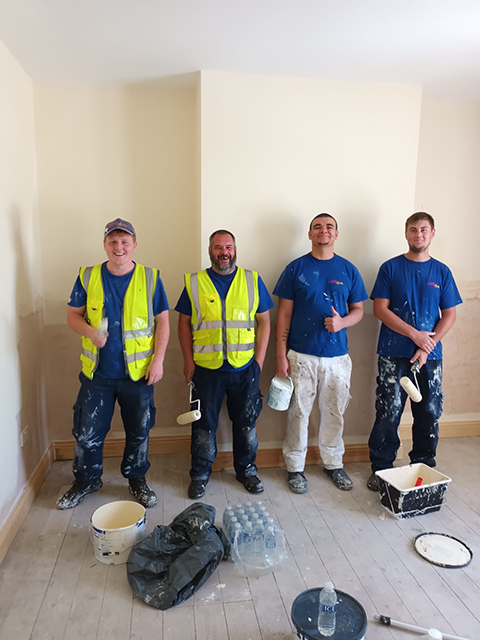 Social Enterprise trainees supported the Empty Homes team in July 2022, painting 20 properties so the homes could be ready to let promptly.
Over the year the new intake of trainees also included Kick Start trainees. Kick Start was a government scheme set up during the pandemic to help 16 to 24-year-olds into work.
The aim of Social Enterprise is to equip trainees with qualifications, work experience, and give assistance with CV writing and interview practice with the hope trainees will be supported into future employment.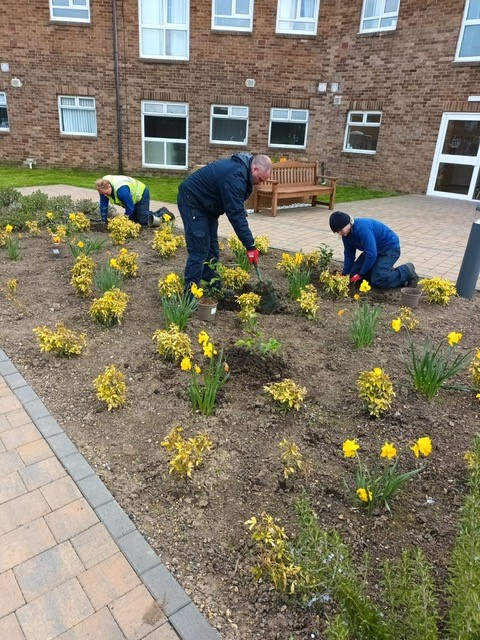 Jackie Harrison joined as a Kick Start trainee to carry out grounds maintenance and painting. He said: "I hadn't considered painting as a career beforehand, but I really enjoy it. I have painted for family and friends, now I have a CSCS card and I'm looking for opportunities to pursue painting, labouring, or grounds maintenance as a career".
The Social Enterprise Team have been working at extra care schemes, carrying out planned grounds maintenance and other site maintenance.
Engaging with Schools and Colleges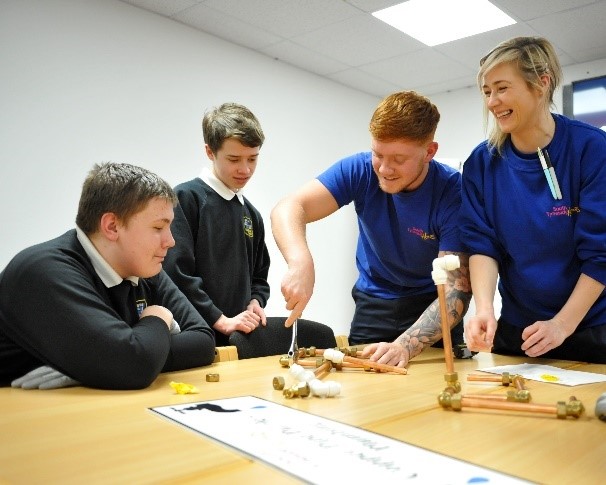 During 2022/23 we have increased involvement with local schools and colleges to offer work experience for students.
Students have visited South Tyneside Homes and attended talks by the team and have learned how to fit a skirting board, connect pipes together and connect doorbells.
National Apprenticeship Week
31 apprentices and 5 trainees during 2022/23 at South Tyneside Homes
The Apprenticeship programme offers to support young people throughout the Borough, including young adults who are looked after by South Tyneside Council with the opportunity to apply for either a trainee position or an apprenticeship. Staff from South Tyneside Homes are Apprentice Ambassadors and attend a Regional Network to support the promotion of apprenticeships across our region and nationally.
75,000 views on our social media posts about Apprentices
Back to Top of Neighbourhood and Community Standard
Making Money Matter
Focus on Expenditure
South Tyneside Homes manages around 16,000 homes on behalf of South Tyneside Council. In 2022/23 income was £67.1 million. Below is an overview of how rent was spent last year.
Spending 2022/23

| Spending | Total | Percentage |
| --- | --- | --- |
| Capital charges | 29.6 | 44.1% |
| Repairs and maintenance | 16 | 23.9% |
| Housing management | 10.8 | 16.1% |
| Central services | 6.7 | 10% |
| Rents, rates and taxes | 0.7 | 1% |
| Estate management | 1.7 | 2.5% |
| Antisocial behaviour | 0.6 | 0.9% |
| Income management | 0.9 | 1.4% |
| Tenant involvement | 0.1 | 0.1% |
| Total | £67.1m | 100% |
Focus On Income
Most of the income comes from rent but tenants and leaseholders are also charged for services and facilities that South Tyneside Homes provides. The contributions come from various sources such as the fee for collecting water rates from tenants:
Income 2022/23

| Income | Amount | Percentage |
| --- | --- | --- |
| Property rents | 63.4 | 94.5% |
| Garage and shop rents | 1.3 | 1.9% |
| Charges for services and facilities | 1.3 | 1.9% |
| Contributions towards costs | 1.2 | 1.7% |
Did you know, for every £1 of rent you pay...
44p is paid out for capital charges (this is the interest paid on borrowing the money to provide the properties)
24p is spent on repairing properties
20p is spent on managing tenancies
10p is spent on central services such as the warden call service
1p is the cost of specialist housing services
1p is spent on miscellaneous costs including rent, rates and taxes